OUR POLICY
Rangers Football Club will strive to make sure that all its fans and visitors are made to feel valued and welcome
The Club tries to make sure that access to our events and services are equal to all fans. We will offer similar deals where barriers exist.
The Club has a written plan which is updated every year to make improvements to access for our fans and visitors.
Stewart Robertson
Managing Director
Rangers Football Club
RANGERS ACCESS POLICY – HERE
OUR AIMS
Rangers Football Club will make visits to Ibrox Stadium as enjoyable as possible and our objectives are to:-
Make sure that Ibrox is accessible and gives equal opportunity for fans and supporters with differing needs to purchase season tickets or match tickets.
Plan to improve access for all
Give clear information about access and future changes
Listen to and act on ideas for improvements from our supporters
HOW ARE THE FANS HEARD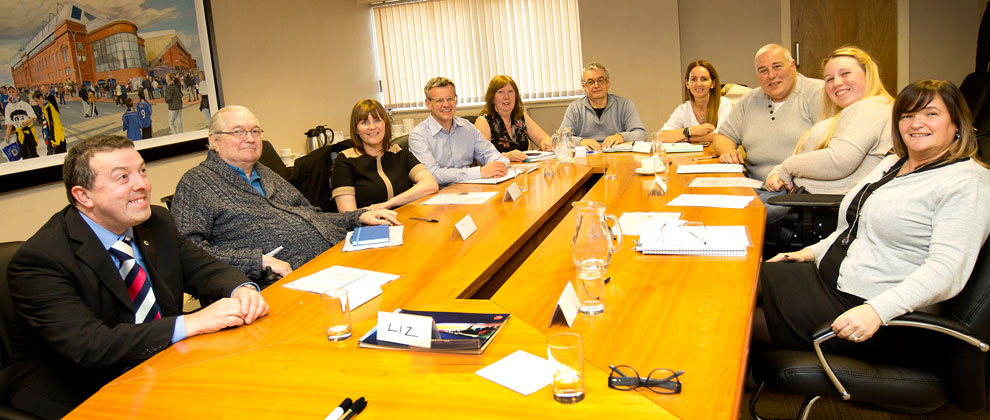 In October 2015 the Club created a group made up of people who have a wide and varied range of disabilities and include supporters and carers of people with different kinds of access needs.
This group works closely with the Club's Disability Access Manager and Managing Director to achieve the Clubs aims.
WHO IS ELIGIBLE FOR REASONABLE ADJUSTMENTS?
All disabled supporters will be offered the opportunity to purchase Smartcards, memberships tickets and hospitality in exactly the same way that non-disabled supporters do.
Definition Of Eligibility
The Club must comply with Health and Safety Legislation including the Safety at Sports Ground Act 1975 and its' guidance (Green Guide) in which the following are defined as disabilities:
Deaf, sign language users, deafened, deaf-blind and visually impaired persons.
Prescribed wheel chair users
Learning, and sensory difficulties
Mobility impairment
Severe physical and / or mental conditions
Severe and enduring mental health problems
Older people with severe physical frailty
Supporters are asked to make us aware when making bookings of any special arrangements they need so the correct arrangements can be made for them.
Where Season Ticket Holders have a requirement for additional support they will be required to complete a Reasonable Adjustment Application Form.  This form should be returned to the Disability Access Manager with any supporting documentation of their needs.
For ad hoc applications this should be done at point of purchase to enable a suitable location to be allocated and for the Club to improve facilities in specific areas.
PIP (personal independence payment) enhanced weekly rate mobility component
PIP Standard or enhanced rate Daily Living Component
Middle to High level Care component of DLA (Disability Living Allowance)
Middle to High level Mobility component of DLA
Attendance Allowance
Registered Blind, or Deaf Blind
War pensioner/disabled services veteran
Armed Forces Independent Payment (AFIP)
There may be other payments or circumstances which entitle an individual to apply for a reasonable adjustment.
The Access Cards, which are also accepted as supporting documentation, indicate by symbols the required adaptations the Stadium, and other venues, may needs to have to assist an individual fan. The Access Card is available on application to www.accesscard.org.uk
WHO CAN YOU ASK FOR HELP?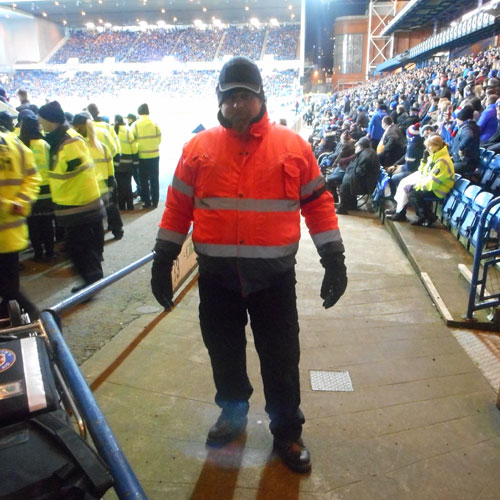 Should additional help be required on matchday please contact the Access Stewards identifiable by their red hi- visibility jackets. If required they will be able to contact the Disability Access Manager for you.
Customer Services are happy to give advice and information on available seating and will also deal with any complaints about the Stadium and of acts of discrimination. These matters will be taken seriously and dealt with promptly.
Any positive comments about improvements that can be made to our disability access provision are also welcome.
Alternatively contact can be made directly to the
Disability Access Manager | [email protected] | 0141 580 8639/ 07793515521,
GENERAL ACCESS ARRANGMENTS

Induction and loop  
The Club has provided mobile induction loop units at strategic customer interface areas.  These are namely
Ticketing Centre,
Receptions at Main Stand and Argyle House
Murray Park Reception
T BAR 1, 36, 10, 7, 12.15,21, 26, 29
Broxi's Den
For conference and meeting purposes the club has a discreet loop system which can supplied on request for those who use hearing aids.  This should where possible be requested at time of booking.  This system can also be used to enable guests at match days to enjoy the conversation at their table.
There is a sign language user and a patron who is profoundly deaf, who are members of the Disability Matters Group, assisting the Club to improve facilities

Wheelchair access
Lifts are available at accessible points throughout the Club, and though access to venues is possible in all but a few hospitality areas, similar service can be offered where available.
Portable ramps are available for small height difference between main floor and boxes as in the Argyle House.  Let us know in advance and this will be in place for you.
We have 35 spaces in the East enclosure with companion seat adjacent or wheelchair adjacent.  The access is flat to these spaces and a blue route has been painted onto the floor to keep able bodied fans from crushing at busy times.
There are 68 spaces available in the West enclosure which have been in existence for a long time and are laid out with each wheelchair space side by side and the companion seat behind. 7 of these spaces are circulated amongst the match to match waiting list.
There are 4 spaces in Broomloan Stand/Family Stand which are allocated on a match to match basis only to RFC fans who have applied to be on the waiting list for a season ticket.  At Celtic fixtures this area is given to Celtic fans who are wheelchair users.
There are 7 spaces in the Govan West Corner which are allocated to visiting support except for Celtic fixtures when these spaces are offered to Rangers wheelchair supporters.
We have wheelchair users and/or companions to wheelchair users represented on the Disability Matters Group to assist.
Storage
Patrons who merely need to access the Stadium by wheelchair can store their wheelchairs in the Shelters and storage areas provided.They are situated at Copland House, Broomloan House, rear of Argyle House and East and West enclosures.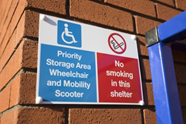 Equipment
RFC Wheel chairs are available, to give assistance to individuals who may by reason of frailty or mobility impairment require the use of one for the duration of their visit to the Club or to transfer from one location to another.
These wheelchairs are located at the Ambulance Room Main Stand, west enclosure. Main Stand Reception and Argyle House Reception
Ramps
Argyle House has fixed ramped access to the reception area as do the Ticketing Centre, Broomloan House and Copland House.  Fixed ramps are available at the wheelchair storage areas in East and West enclosures, the kerb adjacent to Argyle House reception.
Dropped kerbs are situated at several areas around the Stadium. A portable ramp is available for access to the Main Stand reception and the area opposite John Greig statue. Internally portable ramps are used for boxes within the Argyle restaurant.
Level Access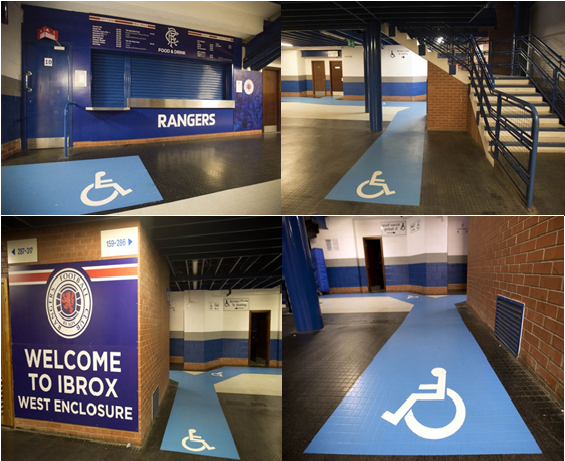 The East, West Towers both have level access as well as Exit 19 which is used as an accessible entrance on match day for permit holders, 23a and 14a which are utilised for wheelchair users.
The Club has created Blue Routes to enable wheelchair user some separation from the moving crowds particularly in high and restricted traffic areas

Commentary and visual assistance
To assist completion of documentation, provision has been made for signing templates and magnifiers to be available at customer areas e.g. Reception Argyle House and Ticketing Centre.
A commentary service is available to patrons with impaired vision throughout the Stadium on request. This applies to meetings, events, tours, hospitality and matchday.
Patrons can choose to sit with the Rex Blind Party or with friends and family elsewhere in the Stadium.
Those opting for the RBP area will be given commentary receivers and headsets or earpieces to enjoy the commentary at leisure by the RBP support volunteers.
Supporters wishing to use the commentary service elsewhere in the Stadium should contact [email protected] or 0141 580 8639 in advance of the event.  For match day a receiver and head set will be left at Main Stand-Waddell window or Argyle House reception whichever is more convenient for the supporter to collect.
This service is available free to Season Ticket Holders, Ticket only patrons will be asked to leave a £10 deposit refundable on return of the equipment.

Safe and Quiet Spaces
The Club is identifying by use of the above symbol Safe Quiet Spaces for the use of a child or young person who is affected by the environment around them to such an extent that the football experience can become overwhelming.
These spaces though not sensory rooms will offer a parent the opportunity to calm their child with a possibility of returning to the event.
They also are available to young adults on the spectrum to go and calm themselves if they find things getting too much.
Other areas will be created as part of the access audit plan
West Enclosure Ambulance Room
Sandy Jardine Rear Treatment Room
Club Deck First Aid Room
So that everyone's experience of visiting the Stadium can be enjoyed families with children with a disability that presents with sensory difficulties can apply to use Broxi's Den.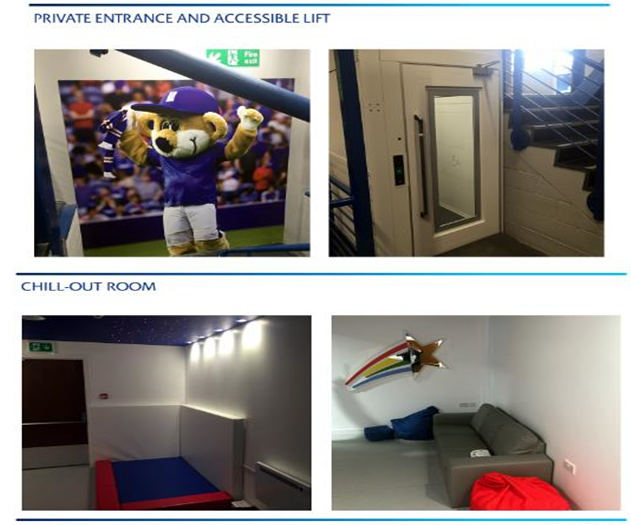 This is a purpose built suite designed to support young people acclimatise to the atmosphere, sights and sound of a football Stadium moving them towards enjoying sitting with their families in their own seats one day.
The space will accommodate 8 individual applicants plus 1 carer/parent between external and internal zones. The space also has an additional area which can be quickly transformed from a play area to a quiet and darker area depending on the child's needs.  The light levels, colours and starlight is fully controllable by the parents and so they don't miss the match whilst their child is chilling there is live feed of the game on a screen in the chill out zone.
Parents are responsible for the supervision of their own child.  Additional support is offered in the form of a pre-order service from the Tbar closest.  Menus are available within the Suite.
An exclusive accessible toilet suite is available close by and will be accessed by radar key only.
Lifts
There are several lifts within the Stadium Hospitality and business areas.  Some have audible indicators to let users know which floor they have arrived at.
Lifts adaptations will be made as part of the ongoing accessible audit plan
For security reasons Season Ticket Holders are advised to apply to [email protected] if they wish to be considered for lift access to non- hospitality seating areas.
A reasonable adjustment form will be sent out STH's and should be returned along with supporting documentation to the Disability Access Manager.
The patron will be supplied with a lift pass. which in the case of conditions which will not improve and on the renewal of their season tickets will automatically be renewed.
Those who require lift access using a match ticket should inform the Ticketing Centre at the time of purchase.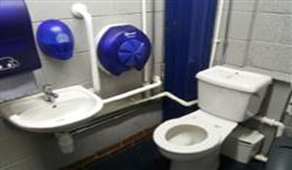 Toilet Facilities
Disabled toilet provision is available within, or close by each of the hospitality suites.  Where refurbishment takes place within the Club every effort is being made to ensure that any additional provision that can be made is included within the proposals.
Disabled facilities are available on concourses with wheelchair sections and some others too.
All disabled toilets in concourses require Radar keys to access them. Access Stewards and Stand Safety managers have spare keys to assist. Please ask concourse Stewards for assistance.
The following areas have full disabled toilet provision:
East enclosure x 2                                                     West enclosure x 2
Ambulance Room West enclosure x 1                      Broomloan Lower x 1
Govan West Corner x1                                             Ibrox Suite Copland Side x2
Main Stand First Floor Centre x1                              Main Stand East Tower x1
Argyle House 4th Floor Landing x1                          Sandy Jardine Rear –Radar key only
Main Stand Tower Suite 2nd Floor
Additional larger cubicles are available at
Argyle House 4th Floor,
Bar 72 third Floor Argyle House.
Family Section Broomloan Upper

Disabled Parking
The Club has disabled parking spaces adjacent to the buildings for use on normal business days and allocates disabled parking permits for match day.
Permits are issued to season Ticket holders on completion of a reasonable adjustments form and providing supporting documentation or holders of The Access Card where this provision is indicated.
Priority will be given to those with severe mobility issues for closer parking provision.
Access permits are issued for the following areas
Albion Car Park entrance
Broomloan Stand Car park entrance at Broomloan Road
Mafeking Street Car Park entry from Mafeking Street
Ibrox Suite Car Park entrance from Edmiston Drive
Argyle House Car Park entrance from Edmiston Drive
Permits are intended for the named disabled Season Ticket holder only who must travel in the vehicle to the match for the permit to be valid.  Companions may not use car park permits or companion match tickets without the authorised holder being present at the event.
Only current RFC Access Parking Permits may be used within the designated parking zones zones.
Access Stewards
During match condition Stewards are on duty and will assist access and egress to all customer areas including lifts.
Stewards are available at
East enclosure,
West enclosure.
Broomloan lower,
Broxi's Den and
Exits 14a, 23a and 19.
Tower entrances for lift access
For more in depth details on each Suite and facilities within the Stadium please see below.
The Disability Matters Group met recently to draw up the wish list for this year and will be pulling together proposals to put to the Board for approval. For suggestions or issues relating to access and inclusion contact us on [email protected]
Rangers And AccessAble

Rangers have partnered with the UK's most trusted accessibility checker AccessAble to produce detailed accessibility information to Ibrox.
AccessAble surveyors have visited and assessed the stadium on non-match days and also on match days to ensure that the information provided gives an accurate picture of what to expect when you visit us.
The information provided by AccessAble is pan disability so in addition to covering wheelchair access they also provide information on what to expect from a sensory perspective, including information on Broxi's Den which is our safe and quiet space and there is also lots information that would be useful for people that have a hidden disability.
AccessAble have covered the car parking, all the stands, all toilets including every accessible toilet, eating and drinking facilities, the megastore, the ticket office and hospitality and conference facilities.
The AccessAble information can be found HERE and by clicking on the following links: