RANGERS' Europa League second leg against Ufa is LIVE on RangersTV across the world.
Supporters with a 'RangersTV Unlimited' subscription will be able to watch the match live and it will also be available on pay per view within the UK and everywhere else outside Russia for £7.49.
Steven Gerrard's men have a 1-0 lead from the first leg victory and Thursday's clash could see them clinch a spot in Friday's group stage draw.
The match is now available to purchase HERE and will be available to view at the following website after completing purchase ufa.rangers.co.uk. 
Users should note that they may need to disable Flash in their browsers to enjoy the HD experience. A guide for laptop and desktop users is available HERE.
With demand expected to be extremely high, we encourage users to purchase the game as early as possible, and login will be available 2 hours before kick-off to enjoy the best experience.
Should you experience any problems or have any queries, please try our FAQs below and if you are still in need of help contact [email protected] via email.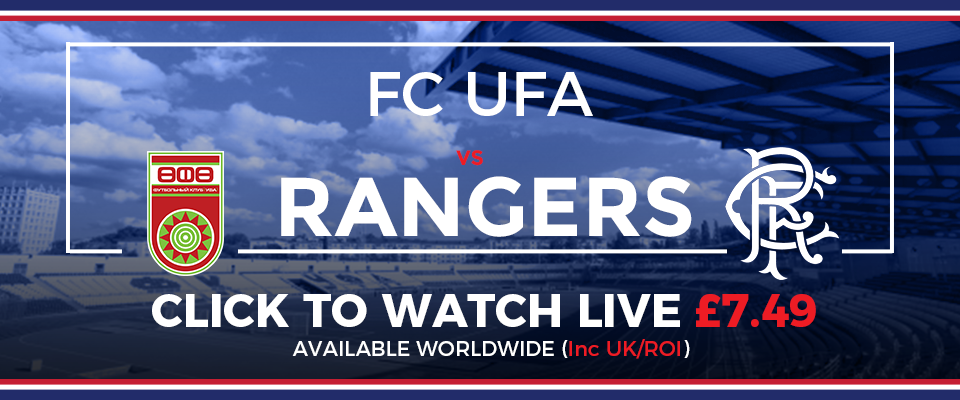 RangersTV FAQ's & Help
The match will be available to view at the following website ufa.rangers.co.uk
Q: Can I watch the match if I live in the UK or Ireland?
A: Yes the match is available worldwide including the UK/ROI. Users in Russia and the CIS will be excluded from viewing on RangersTV.
Q: I have a RangersTV subscription will the match be available to me?
A: The match will be available for subscribers who have RangersTV unlimited (£17.25p/m) If you have RangersTV Standard or RangersTV Plus, or you are not a subscriber, you will need to purchase the game for £7.49
Q: When will the live stream be available?
A: The stream will be accessible from 1.00pm UK time and the broadcast will begin at 2.45pm UK time. You will not need to refresh your browser at any point once you are in. We advise to be in as early as possible to avoid extra strain on the website.
Q: Can I watch the match on my Sky/Virgin/BT set top box?
A: RangersTV is not available on these boxes and only available at www.rangers.co.uk/tv . However this site can be accessed on most devices such as phone, tablet, mac, laptop, PC.
Q: Is there Chromecast capability?
A: In our online player there is no chromecast option. However if you watch via the Google Chrome browser you can cast the whole tab using the cast icon in the top right of the window.
Q: I have emailed [email protected] why have I had no response?
A: Due to the extra strain on our support with the match available inside the UK/ROI we may have more support emails than usual. We will get to your email and answer all queries.
Q: When I try to watch live content I receive the message 'THIS VIDEO ISN'T ENCODED FOR YOUR DEVICE'
A: Since our switch over to HD, Flash is no longer required to view live content and will in fact interfere with viewing. This error will be shown when Flash is enabled in a browser or device.
We have designed a guide to disable Flash on various browsers and it is available at http://rng.rs/2txiyzc.
Q: I'm sure my Username and Password are correct why can't I log in?
A: The main reason for this is the use of Capital Letters Password field. This field require an exact match to our records. If your password was 'Rangers' in our system and you were entering 'rangers' this will not allow you to log in.
If you have tried this and still can't login please try https://rangers.co.uk/tv/lostpassword
If this still doesn't work email [email protected] and ask for a password reminder or reset.
Q: I can't remember my RangersTV username. Can I get a reminder?
A: Yes, with our new account recovery features you can recover your username using the email address you used to sign up for the account. You will need access to the email address you used when signing up. This is available at https://rangers.co.uk/tv/lostpassword
Q: The card I used to sign up to subscribe to RangersTV has expired and I wish to update my details.
A: RangersTV does not hold any card information. All transactions and subscription are dealt with independently through WorldPay. You can update your payment details directly with them at https://rng.rs/2BviQet 
You can also cancel the old subscription by emailing [email protected] and start a new one at rangers.co.uk/tv/subscribe
Q: Why am I experiencing buffering and freezing during RangersTV Live broadcasts?
A: Since our switch to HD some people have emailed saying they are having issues with buffering. This is when the stream stops and a spinning circle appears. The main reason for this is the extra load placed on an internet connection for 1080p streaming.
To resolve this there are a number of options.
Make sure you are not currently downloading anything on a device using the same internet connection, if you are in your home this will be anyone connected to the same Wifi or router. This could include films, music, games etc.

Make sure you are not running any other non-vital programs that require the internet on your device.

Select the icon highlighted below.
This will bring up the following options.

Start by selecting the lowest number which should be 195 kbps. If the buffering continues then the issue may not be with the player and your internet speeds may not be able to handle live streaming. If the buffering is no longer present then try all the different levels until you find the highest possible with no buffering.